Trimline Pens
These pens are priced at $20 and feature cross refills and a larger body than those shown below in the Slimline group. This group is new for 2014 and we hope to add more selection to this category as the year goes on. Check back for more in the future.
Slimline Pens
These pens are priced at $15 and all take standard Cross refills that can be found at your local office supply store. These pens are thin and can fit in a pocket easily, and show off some flair without being weighty and bulky like our larger pens can be. We turn these slightly larger in diameter than we have to usually by request, however we can turn them as thin as the end parts are which makes for a pen that is about 3/8" thick.
Stylus Pens
More about our pens and other work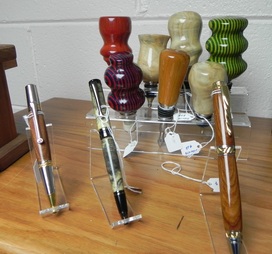 A friend of mine once said that my mistake on a project gives it "character". He also said, "you can show off that knot in the wood right and it makes it look nicer instead of defective". So it goes with our work. Our items have character. Some of them have lots of character, however they appeal to the person that likes hand crafted things. They're not perfect like you'd expect in some stores. They're not mass produced in high volume like you'd see in a regular retail store. Each item is hand crafted by free hand cutting on a lathe or cut out using simple shop equipment like drill presses or table saws. We don't have a duplicator or CNC machine churning these items out over and again effortlessly, they each have our own time and talents included with each piece.
So look our items over, you'll see the defects in them if you look closely enough, you'll see the texture of grain, you might even see tooling marks, but keep in mind that each one is its own, there is not another one just like it anywhere. We may have a table with three or four of a pen that is made similar, but put them close together and you'll see that they are all different, not one is exactly like the other in shape or in natures grains. When you see our items, check them out, and if you don't see what you would like to have, ask us if we can make it, very likely we can.
---