CNC/Engraving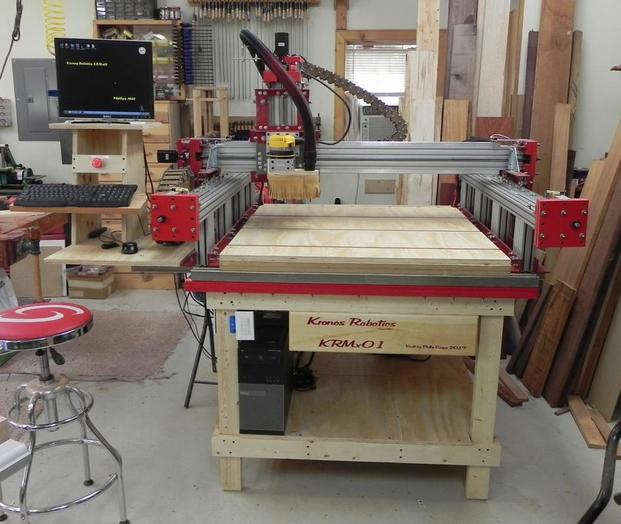 The above machine is home made. It is a Kronos Robotics version, built from plans that I purchased online that are very complete and make a very nice machine. This CNC is capable of material cuts up to 35" on the X axis, 40" on the Y axis, and has over 10" available on the Z axis. The build took just over two months, and rivals the Shop Bot machine that is available commercially. The router is a 2.25 hp DeWalt that can handle up to 1/2" shaft bits. It us run by a Dell computer with Windows 7, using VCarve CAD software, and Mach3 CAM software. Currently the feed rate this machine has seen is 450 IPM. As I find projects that appeal to me, I'm learning more and more about the capabilities of this machine. I hope to have some really interesting work showing up here on this page as well as new items for sale both here and on Etsy.com. You might take a look at the Shut the Box games that I have listed in the games section, there is some engraving work already showing up there.
The latest offerings from the CNC, two wall clocks that are fairly large and detailed. Both are battery powered, the first is made from Mahogany, the second is made from walnut. Both have a clock face of about 6 inches. Next there are two coffee grinders, different logo's on the sides engraved into a cherry case. The last clock is a small mantle clock that has about a 3 1/2" face, made from cherry and is about 12 inches across.

The pictures below are of items made for some of my customers, this gives you an idea of the kinds of modifications I've made so far to the products I make, and also hopefully will bring ideas to you for future items you would like to have made.The first picture is the normal run of 'Shut the Box'. The next five are custom lids for the same game. The last two are modifications that came from the military logo cribbage boards that I can make and are shown in the last box of pictures at the bottom of this page.