About Us...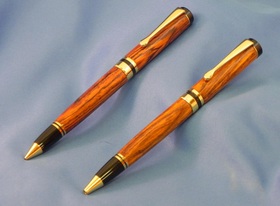 My son and I make some of the finest hand crafted wood items found anywhere. Anything from pens and mechanical pencils to furniture. Large and small items, custom made to order, many styles and finishes. I have been working with wood since the mid 1980's, and have made all kinds of projects. I started out making home furnishings for myself while learning the trade. My son started at an early age watching and learning as he has grown up. We share the love for woodworking and the artistic side of pen making in specific.
Custom orders are welcome.
---
How we got our start...

Our craft comes from a basic interest in woodworking as a hobby. As skills were sharpened over time and our work seen by the public, orders for custom work began. My son and I are dedicated to doing our very best when we make things for others.


I was first introduced to woodworking in the 7th grade building simple boxes and watching my instructor make a gun cabinet from walnut stock. Seeing the gun cabinet take shape from pieces he cut and shaped was fascinating, and I knew that was a craft I had to continue as an adult. It wasn't until I moved into my own home that the woodworking hobby began to be a reality for me. I built simple furniture projects while still playing with other woodworking ideas such as turning on a lathe and other techniques that I'd found in books or in demonstrations.


I am a fan of natural wood, hardwoods of all kinds and finished with care to create an heirloom piece that will last a lifetime. My son has grown up enjoying playing with wood and making things, as well as sharpening his skills. We try to reclaim (or re-purpose) some of our wood from other projects that are no longer needed or wanted. It is my goal to use wood without wasting it. I believe in maximizing each piece of wood to get the most from it. That idea is partially responsible for the pen making work as it takes very small pieces of wood. Scraps from one project become the stock for another, minimizing waste.
To date we have created nearly a thousand pens, all different and hand crafted with care.


It is our goal to create some project that you will find a need for in your home or office to enjoy and show others. We continue to expand our offerings both here on this site and our Etsy.com store. We also expand our skills as we learn new things about woodworking, the latest of which is adding the CNC capabilities. We are now engraving items and custom building projects that are best done with CNC technology.
---
How to contact us...


The best way to contact us is by email, you can reach us using this link.Purchases are best made offline as we do not offer a secure shopping cart on this site. We do offer a catalog and order form, see the main page for links to those items.

These are some of the clubs or woodworking associations that we belong to. We find that no matter where we go, we learn something new, and are eager to share what we learn in our daily work in the shop.